Customer Review: I have been detecting for 33 years now. Relics, coins, beach and diving. I have had many favorite detectors over the years. But recently I purchased the Makro Racer from Frank Nash. Since then I have read a very helpful book called Mastering the Makro Racer by Clive James Clynick which was very helpful in quickly mastering the advanced abilities of this new detector. Let me say I am very, very happy with the performance of the Racer. Beats everything I have used before for speed, ease of use, precision and raw power. Amazing depth and see through iron trash capabilities. I dig more deeper beach targets and older coins overall. Also a solid well made machine. ...and the price is sweet compared to others with less power and fewer options with a higher price tag. WPB
Mastering the Makro Racer by Clive James Clynick $19.95 Free Shipping (Local Pickup discounted)
Makro Racer Advanced Target ID Metal Detector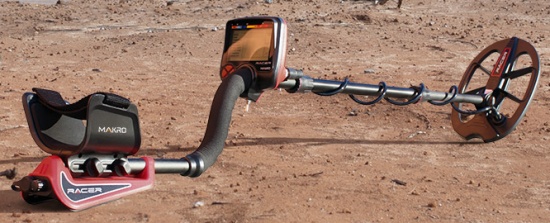 NEW LOWER PRICE... UNBELIEVABLE!!!! $499 NEW IN BOX

Makro Racer Detector Standard Package

Retail: $764
Our Price: $499.00 & Free Shipping

Includes: RC-29 DD Search Coil, Headphones, 4 x AA Alkaline Batteries, User Manual & Warranty Cert.

Makro Racer Metal Detector Pro Package

Retail: $999
Our Price: $849.00 & Free Shipping

Includes: RC-29 DD 11×7 Search Coil, RC-13 DD 5×4.5 Search Coil, Headphones, Carry Bag, Treasure Pouch, Rain Covers, AC & Car Charger w/ 4 x AA Alkaline Batteries, User Manual & Warranty Cert, Cap and T-Shirt w/ Official Makro Logo.
Developed for searching coins, jewelry and relics, RACER offers you the ideal combination of cutting-edge technology and advanced design.Including beach and wet salt sand!
SIMPLE TO USE, YET POWERFUL AND EFFECTIVE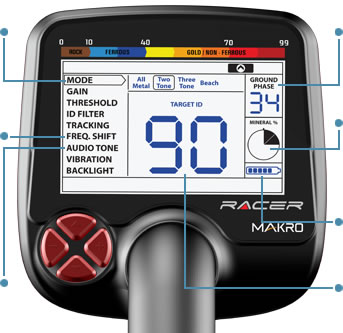 Racer Color Target Display Screen
High performance and unmatched depth Just like a good racer, it will let you win every time with its speed, metal discrimination ability and depth.

Unmatched Depth
Professional design and superior quality Perfect ergonomics and sturdiness. The total weight of RACER is just 1400g (3 lbs.)!
Racer Ergo Design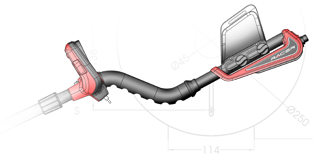 Racer Ergo Design
For Challenging Terrains
Waterproof search coils, 4 factory preset search modes specially designed for various ground conditions and ID Filtering properties enable RACER to function flawlessly in any terrain and in the trashiest locations.
All Terrain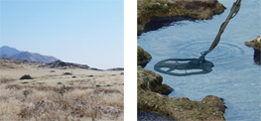 All Terrain
Optional Bluetooth Headphones
Shift into high gear and enjoy RACER without headphone wires! Users who do not like wired headphones or who simply want "more technology" can add one more to the great features of RACER by purchasing the optional Bluetooth headphones and module.

Optional Bluetooth Headphones
Thanks to the built-in vibration feature of RACER, now the hearing impaired can also enjoy metal detecting. This is also a great feature for noisy surroundings.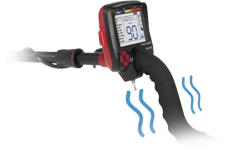 Vibration for hearing impaired
Don't be dependent on the daylight for your search. RACER's LED lighting system which illuminates your search area and the backlight enable you to perform search at night and in the dark.


Built in flashlight
Shows the center and depth of the detected target in cms or inches.
Pinpoint & Depth Indicator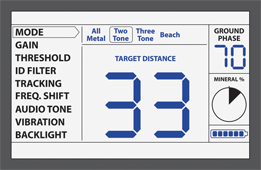 Pinpoint & Depth Indicator